---
Sell Photos Clicked on your Phone and Earn Money
Are you a good photographer? Do you like to click snaps on your mobile phone? Did you ever wonder that it can fetch some money for you? Well, if you haven't wondered then you should! Because you can! Today, I came across an app for iPhone and Android devices known as Scoopshot that allows you to do so. I got attracted by their tagline 'Snap, send earn'. Scoopshot is developed by P2S Media Group Inc. With Scoopshot you can become a mobile photographer! All you need to do is click a snap with your phone and send it to Scoopshot on your phone.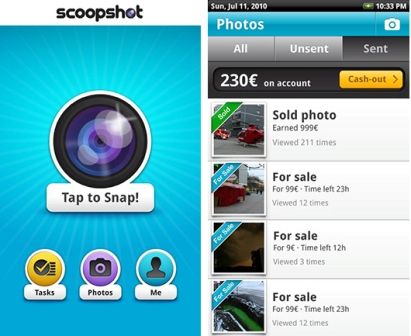 So, how do I start selling my photos?
Firstly, Download ScoopShot for iPhone or Android and install it. For iPhone, you can find it on App store and for Android you can get it from the Android market.
Now, it's time to get rolling! Start Scoopshot and tap the lens logo and click a snap.
Set a price for your photo and explain what makes it special and unique. Next, send the photo directly to Scoopshot store using your phone!
If someone likes your snap, they'll purchase it and you'll earn money! You'll be notified when your photo is sold.
Scoopshot helps you set your price and earn money. If you're good at photography, I would definitely recommend this to you. Successful Scoopshooters have earned thousands of Euros! So, what are you waiting for? Grab your phone, get Scoopshot! It's time to click a snap!