---
Desktop Shutdown Shortcut for Windows 8 for a Quick Shutdown
Hardware these days is simply amazing when you compare it back to the hardware five years ago. Everything's happening very fast and the modern generation needs it fast just like the fast food. Well, let me stick to the point! The point here is 'the need for a quick shutdown'. Now that the Windows 8 Developer preview is out, most of the geeks are busy playing around with it. I observed that to shut down Windows 8, you need to open the Windows 8 settings pane and click on the power option and then finally select the Shutdown icon to Shut down your windows 8 computer.
If you don't want to go through all these steps then you can simply get a Shutdown shortcut that will save time and speed up the shutdown process. Here's how you do it:
On the desktop, right click and choose 'New shortcut'.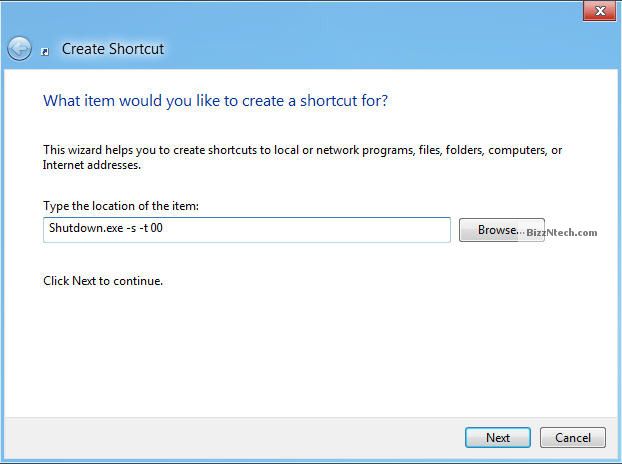 Now, you'll be prompted to enter the location of the item. Copy the following code and click on 'Next'.
C:\ProgramData\Microsoft\Windows\Start Menu\Programs
Next, you need to enter a name for the shortcut. Type an appropriate name like 'Shutdown' and click on 'Finish'.
A shortcut icon is now created with the entered name. However, if you are not satisfied with the icon, you can change it. You can change it by right clicking the icon and then going to 'Properties' > 'Change icon'. Browse and select an icon of your choice and click on 'ok'.
How to get the Shutdown shortcut on the Metro Screen?
Open 'My Computer' and navigate to the following path:
%appdata%\microsoft\windows\Start Menu\Programs\
Cut and paste the shortcut icon created earlier in this directory.
That's it! Now press the Windows Key and you should see the shutdown icon in the Metro interface.
Other shortcut codes, if you are interested:
Desktop Restart shortcut code:
Shutdown.exe -r -t 00

Desktop Hibernate shortcut code:
rundll32.exe PowrProf.dll,SetSuspendState

Desktop Sleep shortcut code:
rundll32.exe powrprof.dll,SetSuspendState 0,1,0