---
KIS 2011 Trial Resetter Download
Kaspersky Internet Security (KIS) 2011 is one of the best internet security solutions for a personal computer. I have been using Kaspersky antivirus solution for the past three years and I must say that it is undoubtedly the best out there. Well, if you are confused and can't select a good internet security solution for your computer then you may consider trying out various products before actually buying them. But, unfortunately most of the popular antivirus or internet security programs like Kaspersky give only 30 day trial which is quite less. But, don't you worry there's a way to increase this trial period. In this post I'm going to explain how you can extend KIS 2011 trial period.
How to Reset Kaspersky Internet Security (KIS) 2011 Trial
Download and install Kaspersky Internet Security 2011. Activate using trial license. You can use the trial license for 30 days. After it expires, you can extend the trial license. There are two ways how you can do this:
a. By using registry keys:
Disable Kaspersky Self-Defense by going to Settings> Advanced Settings. Click Apply and OK to save settings.
Exit Kaspersky.
Download the registry file from here- (32bit/ 64bit) depending upon the software. This will reset the trial period.

Double click the registry file and click 'Yes' when you get a pop up.
Now start KIS 2011 and Activate the Trial License.
b. Using KIS 2011 Trial Resetter:
Again for this method you need to first disable Self defense by going to Settings and click on the box option to go to advanced settings.
On the left hand side you should see Self Defense. Click on it and on the right side uncheck 'Enable Self-Defense'
Click Apply and Ok. Exit Kaspersky.
Download KIS 2011 reset tool and run it.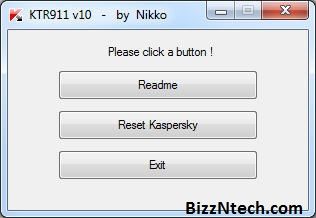 Click on the Reset Kaspersky button. That's it! Now, you may activate a new trial license.
NOTE: This Resetter works for all Kaspersky 2010 and 2011 products.
DISCLAIMER: This article is solely intended for learning and educational purposes. If you want to buy a complete genuine version of the software simply purchase a license from Kaspersky.