---
Free McAfee Antivirus Plus 2011 One Year License Key
McAfee Antivirus has been one of the most reliable antivirus solutions for the past few years. It provides efficient and reliable protection against Trojans, viruses, rootkits and other malicious activity. It instantly detects and blocks viruses and stops threats from infecting your PC. I just came across a wonderful offer on Newegg from which you can get McAfee Antivirus Plus 2011 for free. Well, this one is not as easy as other offers previously mentioned on BizzNtech.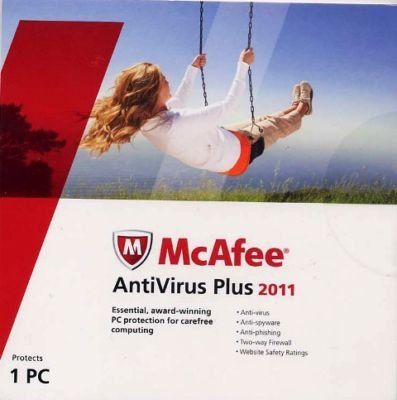 How to get McAfee Antivirus Plus 2011 One Year License Key for Free?
1. Go to the NewEgg Promotional page.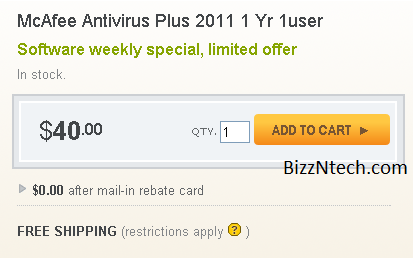 2. Click Add to Cart, to add McAfee Antivirus Plus 2011 to your purchases.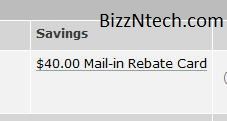 3. Now, click on the $40 Mail-in Rebate Card link under saving. This will download a PDF form, save it on your computer and click on checkout.
4. Open the PDF file you saved earlier and print it out. Fill in the required details in the form and mail it with the original UPC (731944508528) from the bottom of the Antivirus box along with a copy of the receipt that indicates you purchased the product.
5. You need to mail the form to the below address:
McAfee Rebates
1102-45844
P.O. Box 540007
El Paso, TX. 88554-0007
6. It will take about 10 weeks for your form to be processed. You can follow your rebate at http://www.mcafeerebates.com/.