---
Porn Detection Stick- Scan for Porn Files
Worried about your son watching porn or storing porn in his computer? Then don't you worry. There's a small USB stick known as Porn Detection Stick which scans for pornographic images in a computer.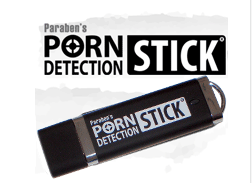 The Porn Detection Stick is a pen drive that scans all the images stored on a computer hard disk. Once the files are scanned, it creates a report of all the suspected pornographic images. It is pretty easy to use, all you need to do is simple plug in the drive and then run the scan with the software.
I was wondering how it actually works. I thought that it would simply scan the file names and show suspicious files. But, that's not true. It features advanced image analyzing algorithms that categorize images as potentially harmful by identifying facial features, flesh tone colors, image backgrounds, body part shapes, etc.
If you're interested in buying one then it will cost you about $100.