---
How to Repair or Fix the Windows 7 Bootloader
There may be several reasons for a bootloader to get corrupt. When a bootloader gets corrupt you won't be able to load the operating system. Sometimes, when you install multiple operating systems you may get double entries or no entry for a particular operating system in the selection menu while booting. If you're experiencing a similar problem in Windows 7 boot loader then you can fix it using the following tools.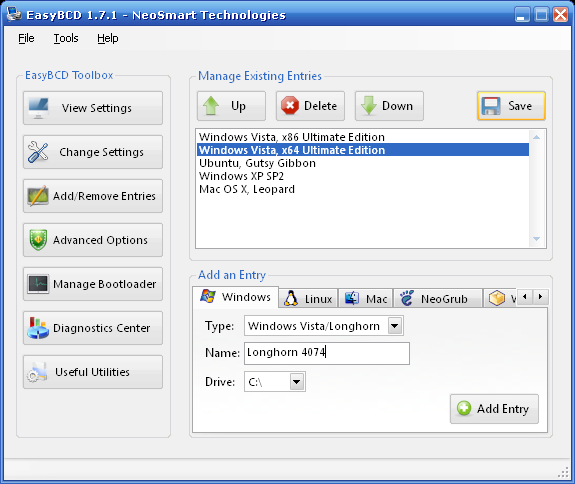 Easy BCD: (freeware)
Using Easy BCD EasyBCD you can set up and configure Windows boot entries with ease. You can easily and quickly boot right into Linux, Mac OS X, or BSD. You can add an entry to your old Vista/ Windows 7 partition or create a duplicate entry for testing purposes.
Dual Boot Pro:
Dual Boot Pro helps you to change the Windows Boot Configuration Data (BCD) registry quickly and easily. It does the job in a fraction of the time it would take using the alternative DOS based command lines. You don't need to be familiar with the ins and outs of the bcdedit.exe switches and options. Moreover, editing the BCDedit file is complicated in Vista and Windows 7. It's not easy like it was in the previous operating systems. Hence, this tool comes handy.
With this tool you can install a second OS or manage your boot configuration, back up the boot information (BCD store) before editing, change the order of the operating systems in the boot menu, set any operating system to be the default, etc.