---
How to Play Broken AVI Files
Sometimes when you download a video file it may not get downloaded fully or it may get corrupted. You don't want to download the file again but you want to play it, then what do you do? Well, you can repair such files and if you're lucky enough you may also be able to play them directly using certain media players. I'll list some softwares which allow you to play broken .avi files.
How to Fix and Play Broken AVI Files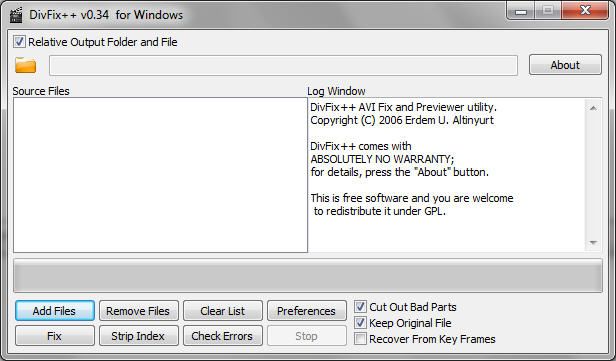 Divfix++:
Divfix++ is a tiny software (hardly 1MB) that helps you to repair and preview files which are on downloaded from ed2k (emule), torrent, gnutella, etc. It can repair AVI and DivX files. It's a portable app, hence you don't need to install it. Simply download and double click to launch it. The user interface is pretty neat and easy to understand. You can add files by clicking on the 'Add' button. To fix the file click on 'Fix'. Make sure the option 'Keep original file' is checked or else the file will get replaced by the edited one.
GOM Player:
AVI files can't be played if the index is broken, or if the file isn't completely downloaded. This is because the index is located at the end of the file. But, GOM Player's patented technology enables users to view files with broken indexes or that are still being downloaded.
VLC Player:
VLC Player also allows you to fix broken AVI files and play them. But, sometimes you won't be able to forward or rewind them.
Fix Player:
Fix Player is a free media player which allows you to fix and repair broken AVI files. It repairs and plays those files that cannot be played on other media players. You can also preview partly downloaded AVI files and repair broken files from CD or DVD.