---
How to Block Google Talk Friends
Ever blocked a Google Talk friend or contact? Want to unblock it? Today, I'll share with you a brief tutorial on how to block and unblock Google Talk Contacts. It's pretty simple, just read the below tutorial carefully:
How to Block a Google Talk Contact?
To block a contact, start Google Talk and right click on the contact you want to block and select block. You'll get a confirmation message, just click ok and the contact will also disappear from your GTalk.
How to Unblock a Google Talk Contact?
Once you have blocked a contact you'll notice that the contact no longer appears in Google Talk. To unblock it you need to first log into Gmail on your favorite browser. Wait for the Google Talk on the left hand side to load.

You don't need to sign in. In the search bar simply type the contact name or ID. The contact will appear in the search. Just move your move over it and click on chat.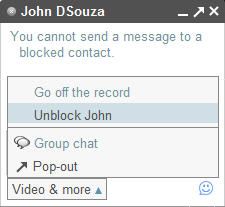 Now, in the chat box click on 'Video & more'. Select 'Unblock' to unblock the contact.