---
Convert Images to Icons (.ICO)
Previously I had written an article on a website- Bradicon, which allows you to convert any image into an icon (.ico format). Today, I came across a software- Imagicon which does the same job for you if you don't have internet access.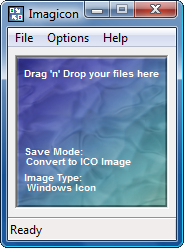 Imagicon is a small tool which is capable of converting PNG, JPEG, BMP, etc into .ICO format. It has an extremely user friendly user interface. To convert an image into an icon, all you need to do is simply drag and drop the image into the program. You can also go to options and set the icon size, i.e.; 16×16, 32×32, 48×48, 64×64, 128×128. Nowadays, 64×64, 128×128 sizes are popular as they are big and eye candy.
Another interesting feature of this program is that you can not only convert any image into .ico but you can also convert into BMP, JPG, and PNG.