---
How to Boot into Safe Mode in Vista When F8 Doesn't work
When we speak about safe mode we all know that the F8 key boots Windows into Safe mode. But unfortunately for some BIOS it shows boot options (hard disk, DVD rom, etc). In such a situation you can make use of the msconfig in Vista. Here's how you do it:
Go to Start menu and in the search box type msconfig and hit enter.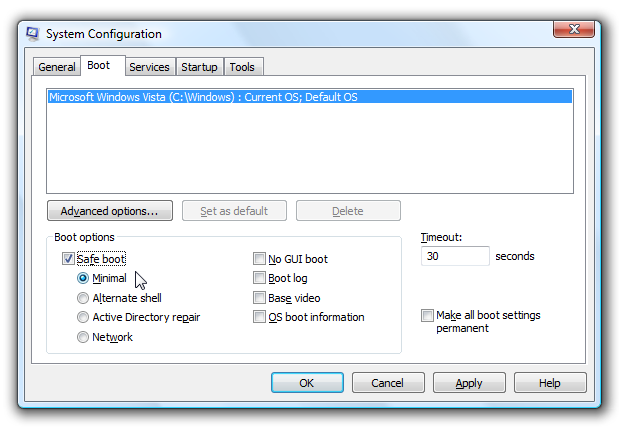 This will bring up msconfig. Now under the Boot tab check the box "Safe boot" and make sure the radio button below is set to "Minimal".
Once you're done click on OK, you'll be asked if you want to Restart now or wait until later. Either way, the next boot will take you into safe mode.
Once you restart, the pc should boot into Safe Mode.
Now if you want to turn off the safe mode you need to go through the above steps again when you're in Safe mode and uncheck the box "Safe boot".