---
Transform Kubuntu 9.04 in to Windows 7
A designer at KDE-Looks.org has come up with a Windows 7 transformation pack for Kubuntu 9.04. It transforms Kubuntu 9.04 into Windows 7. Well, it doesn't change Kubuntu into Windows 7 but it gives you the look and feel of Windows 7 on Kubuntu. The interesting part is that in some areas Kubuntu works just like Windows 7!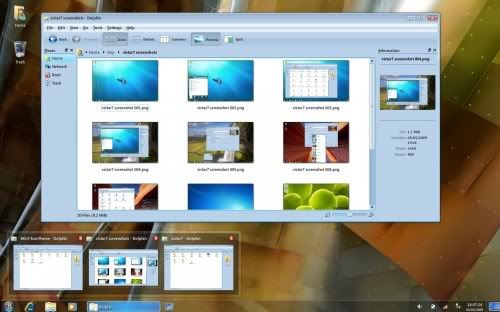 The Vistar7 transformation pack includes Windows 7 official, Windows 7 sound theme files, splash screens, Segoe UI, Calibri and Cambri fonts from Microsoft, Aero mouse theme, default Windows 7 user picture, Vistar7 plasma theme, etc.
Installation:
Once you're online open konsole in Transformation Pack directory
chmod +x install.sh
sudo ./install.sh
login as vistar7 user
NOTE: The transformation pack is not recommended for daily use as it doesn't come with updates, fixes, or support.