---
How to Jailbreak iPod Touch 2G
iPod touch owners have something to cheer about, the iPod Touch 2G can now be jailbroken fully using Quickfreedom. QuickFreedom is the first iPod touch 2nd Generation Untethered GUI program that allows you to quickly Jailbreak your iPod touch. QuickFreedom works on Windows XP, Vista and may work on Windows 7 as well. I used it to jailbreak my friend's iPod 32GB 2G touch on Windows XP and it worked perfectly. Using this app you can also add custom boot logos while creating your custom firmware. Ok so here's the procedure for jailbreaking your iPod Touch.
Files Required:
Quick Freedom
Firmware- 2.2.1 2G, 2.2.1 1G
iTunes
Procedure: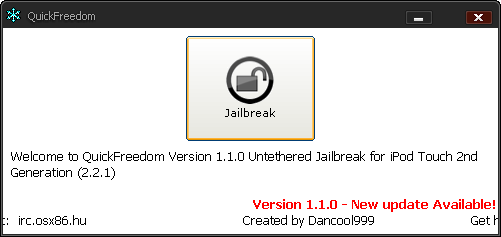 Firstly download your respective firmware supported by your iPod. Once done keep it safe, you need it later. Now download and install Quick Freedom. After installing run it. You should see a screen like above. Click on the jailbreak button to proceed.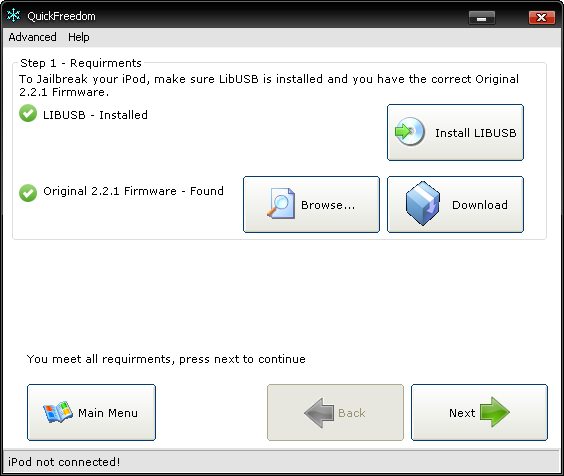 Now in the next step click on 'LIBUSB' to install it. Once installed, browse and locate the firmware which you downloaded previously. You don't need to connect your iPod as of yet. Click next to proceed.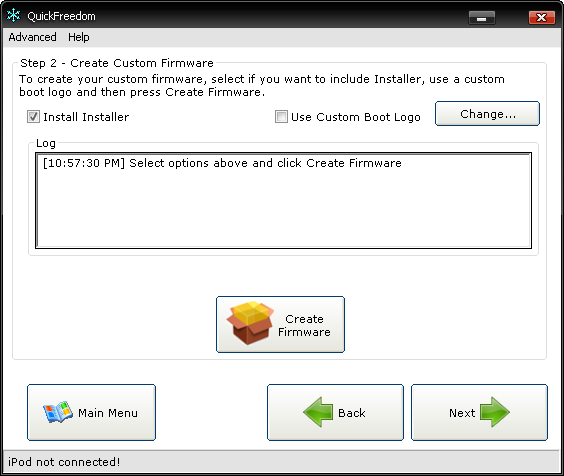 On the next step you can create your custom firmware. If you want a custom boot logo then check the option 'Use custom Boot Logo' and select your choice. If you don't want to do so then simply click on 'Create firmware'. The firmware will now be created and placed on your desktop. It will take about 5-6 minutes. Click 'next' once done.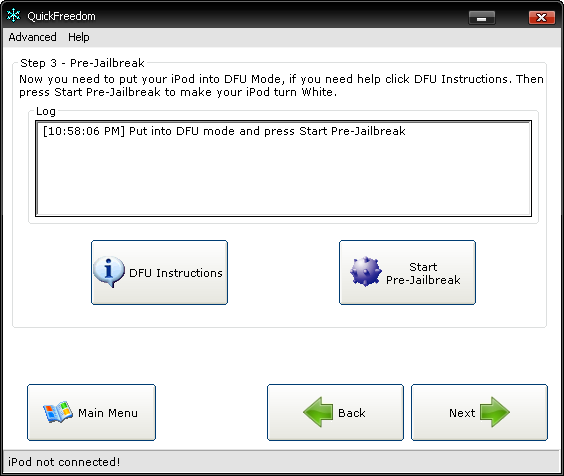 On the next step you need to connect your iPod. Switch it off first. Then hold the power and home button simultaneously and connect the cable. You need to hold them for 10 secs and then release the power button while holding the home button. Hold until the phone enters into DFU mode. When the phone enters DFU mode, the screen will turn white. Click on 'Start Pre Jailbreak'. Once it's done click next.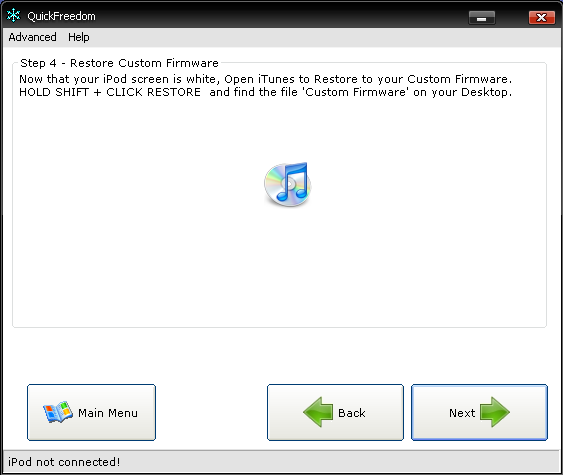 Now you need to open iTunes and restore your firmware. You can do so by holding SHIFT and clicking on 'restore' button. Browse and locate the custom firmware created earlier, it will be on your desktop.
That's it now you can rest back and watch as the firmware gets restored. Once done the iPod will reboot and you'll be prompted to setup by entering a name.
Voila you just jailbroke your iPod Touch 2G. If you want to install cracked apps then you need to patch the mobile installation file. For more information have a look at the patching mobile installation file tutorial.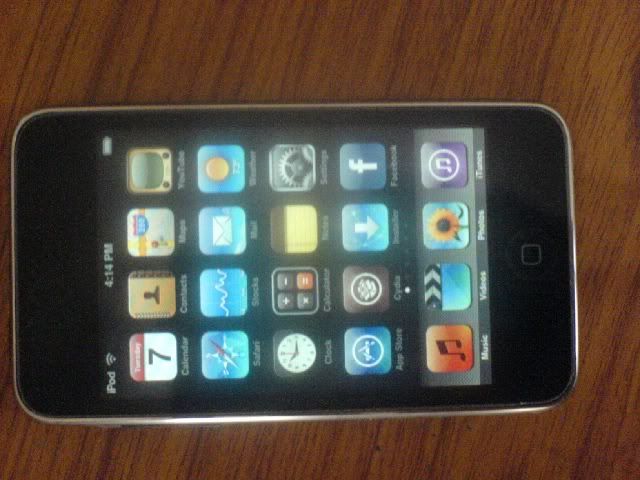 That's the iPod I jailbroke
NOTE: Quick freedom may fail in creating custom firmware in Windows Vista. Just change the compatibility to Windows XP and it should work fine.