---
How to Access Multiple Email Accounts in GMail
Nowadays most of us have more than one email ID. When the email ID is of the same provider like Gmail, Yahoo, etc you got to sign out and sign into your second account which is time consuming. Some people use different browsers to solve this problem. So when we speak about multiple Gmail accounts the multiple inbox feature comes to my mind. I'm not very sure if you have heard about it. Well, if you haven't then as the word says it allows you to manage multiple inboxes. So, let's see how we can make use of this feature.

1. Firstly you need to enable 'Multiple Inboxes'. You can do this by going to Settings> Labs> enable Multiple Inboxes as shown above. Once done scroll on top and click on 'Save changes'
Once you do this your inbox page will open and you'll notice that two new boxes- "is:starred" and "is:drafts" have appeared. If you have any starred or draft emails then you'll see them in those boxes. If you don't want to have a pane dedicated to drafts or starred emails you can remove those panes by going to the multiple inboxes settings.
2. Now again go to Settings> Accounts> Get mail from other accounts and click on 'Add a mail account you own'.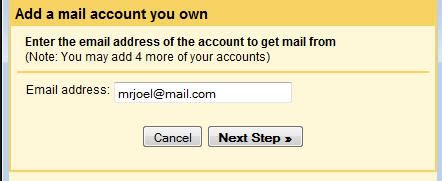 Once you do this a new box will pop up asking you for an email ID. Enter the email address, password and any other relevant information, then add the account. You can add any account like yahoo, hotmail, Gmail, etc. During the process you can also add new labels. Once everything's done it will send a verification code to your added email. Open your added email and look in the inbox for the code. You need to enter it in the box.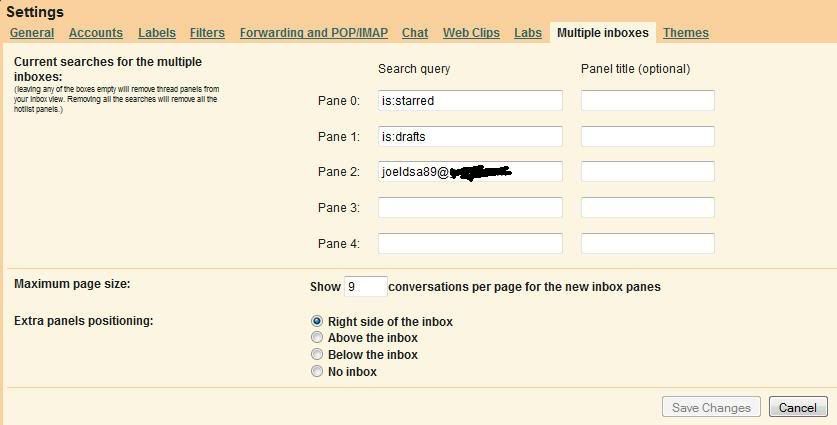 3. After you've successfully added your external email accounts, go to the 'multiple inboxes' tab under settings. If you haven't touched any of this settings then by default Pane 0 is occupied by "is:starred" and Pane 1 by "is:drafts". If you want you can remove these any time. Now enter the new secondary email address that you added previously to display its inbox contents beside your Gmail inbox. In the additional settings below, you can set the number of messages to be displayed in the extra inbox panes.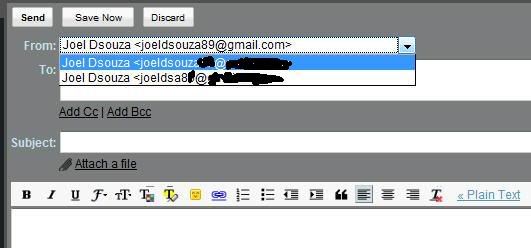 This is one of the best feature provided Gmail which makes managing multiple emails easy. This feature not only allows you to browse inboxes of multiple mails, you can also send mails from different ids within Gmail itself by simply selecting the mail ID from the drop down box in compose mail. Thanks to techspot for explaining this feature.