---
Windows Live Writer Portable
If you're a person who likes blogging and carries a lot of portable apps in your USB stick then here's another app- Windows Live Writer, you might like to add to your list. Well, there's no separate portable edition of Windows Live Writer but there's a way through which you can easily make your live writer portable. Scott Kingery has come up with a beautiful and easy trick to do so. Follow the below instructions carefully to make your Windows live writer portable.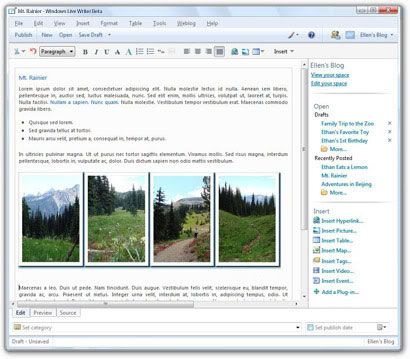 Firstly download and install Windows Live Writer on your pc.
Once done, download WLWPortable2.zip (Link1, Link2, link3) and extract the contents to your USB drive.
Next, copy the files and directories from C:\Program Files\Windows Live\Writer to the WindowsLiveWriterPortable\App\WindowsLiveWriter directory on your USB drive.
That's it, now to run Windows Live Writer Portable, just launch WindowsLiveWriterPortable.exe from your USB drive.
The launcher also supports SanDisk U3. Well, if you don't know what's U3, then it's a utility that allows you to install programs onto portable USB flash drives, so that you can use those programs on any machine. For further instructions visit the Windows Live Writer Portable project page.