---
Free BitDefender Internet Security 2009 Key
Looks like every internet security software makers are trying hard to promote their products by offering free keys and various other promotions. Just few minutes back I mentioned about the Kaspersky promotion through which you can get a 9 months Kaspersky antivirus subscription absolutely free. Well, here's another one. This time it's a BitDefender promotion. You can get a 120days subscription absolutely free. I'm sure most of you have already heard of Bitdefender, it's well known.
BitDefender Internet Security 2009 is designed for users who want complete protection from malware and other common Internet Security threats. Internet Security includes all of the benefits of Antivirus 2009, as well as:
Features:
* Firewall protection – controlling access to the Internet while "hiding" the computer from hackers
* E-mail anti-phishing and anti-spam – preventing different types of spam and scam e-mails from being delivered
* Parental controls – to block access to inappropriate websites and e-mails
* Web time limiter – which allows or blocks access to the web during specified time periods
* Application control – which allows users to limit access to specified applications
Follow the below instructions carefully to get free Bit Defender 2009 120 days license:
1. Go to Bitdefender internet security 2009 promotion by clicking here.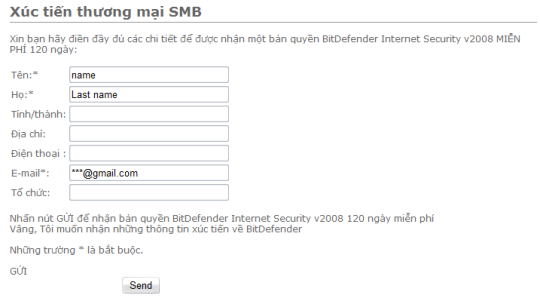 2. You'll find a box. Enter your name, last name, and valid email address in the boxes as shown above. Once done, click on the Send button.
3. After few minuted you should receive an email with the title " Xac nhan dang ky ban quyen" in your mail box, It will contain the License key for Bitdefender Internet Security 2009. Copy and keep it safe somewhere so that you don't forget it.
4. Now download Bitdefender Internet Security 2008 from the below links.
BitDefender Internet Security 2009 32bit
BitDefender Internet Security 2009 64bit
5. Install BitDefender Internet Security, once done restart your computer. Now enter the key which you had got in your email earlier to activate.
6. Volia! You should have a 120 days fully functional BitDefender Internet Security 2009
Be quick people, this offer may expire any moment. The sooner you get the better it is.