---
Quickly Capture Screenshot of a Webpage without any Addon
Bloggers and designers usually take screenshots of web pages; they do it by either using a software or an addon. Well, if you're using Firefox then you can install the addon- Fireshot to capture screenshots of web pages. But let's look into some other way which allows you to take screenshots without installing any program or addon.

There's a website- SuperScreenshot.com which captures the screenshot of a particular page. To use it you can simply enter the URL of the page you want to take the screenshot. Once you enter click Go, now select the size and format of the screenshot and click view screenshot, the screenshot will appear in a few secs.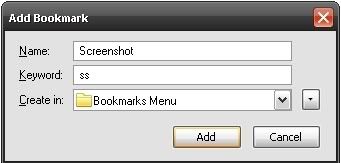 You can also try a small trick, go to SuperScreenshot.com and right click in the input box where you enter a web address, a sub menu will open, select Add a keyword for this search. Enter a name like Screenshot and keyword to be ss. Once done, you can capture the screenshot of any web page by just typing "ss http://www.website.com" in the address bar, the screenshot will appear within few secs. Make sure you put a space after ss.
[via-fabworker]