---
Quick Media Converter- Convert Media to any Format with Ease
Nowadays there are lots of file formats. It sometimes becomes difficult to choose the best format. The worst part is that some formats aren't supported by certain players, making it difficult to convert the format to the supported format. For instance music players, mobile phones, etc mostly support mp3 files. I have lots of music in .rm which I hate the most simply because I have to convert it to mp3 while transferring to my cell phone. You can find free as well as paid softwares to convert files. I prefer free ones, but getting a freeware which can convert media files into various formats isn't easy.
Today while browsing I came across a wonderful program which converts media files into various kinds of formats. It's known as Quick Media Converter. It has a very user friendly interface.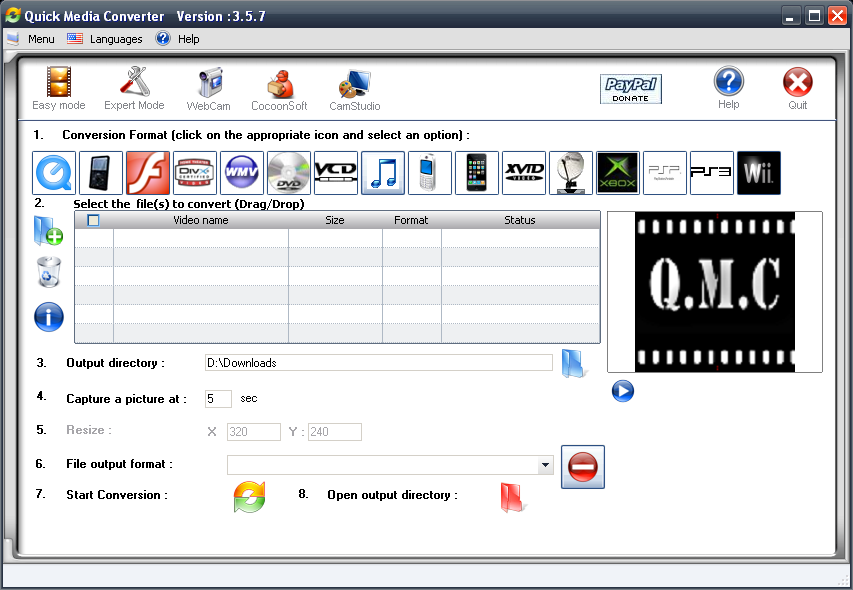 Using Quick Media Convertor:

1. Firstly select the output format by clicking on an appropriate icon in the top bar. For instance, if you have an iPod you can click on the iPod button and select the desired format under it for using the file on your iPod.

2. Now add the file to be converted by dragging it into the box.

3. Select the output directory, the converted file will be placed here.
4. You can also configure other settings or jump to the next step.

5. Click on the start conversion button to start converting the file.
Download Quick Media Converter