---
How to Create a List of Files and Folders in a Directory
We have several files and folders in our computers. Sometimes we may require a list of files and folders in a particular directory. Looking for each file and folder and listing them isn't easy. But there's an easy way to generate or create a list of files and folders in a location. Here's how you do it:
Go to Start> Accessories> Notepad
Now type the following:
dir /s > output.txt
Save the file as "genfile.bat", close Notepad.
Now to generate a files and folder list of a specific location, simply paste genfile.bat into it and double click on it. It will create a new text file in same place with the name "output" which will contain the list of all the files and folders present in the location. It not only shows the names of files and folders but it also shows the date on which they were created, their file size, etc.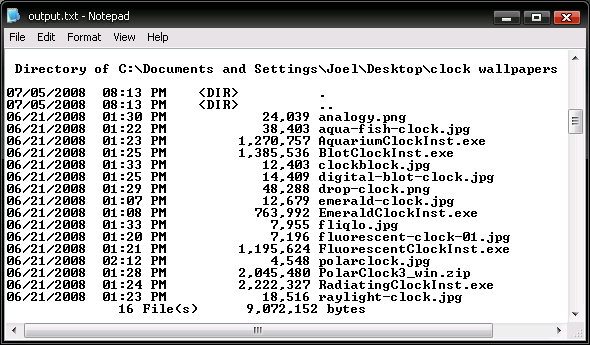 PS: Did you know that you can Hide Files and Folders in the Windows Calculator?