---
iPhone Theme for BlackBerry Devices- bPhone
If you own a BlackBerry and would like to get the iPhone feel on it then here's an awesome theme known as bPhone which will give you the iPhone look and feel on your BackBerry. The theme is created by Matthew Rogers for 8700, Pearl, Curve and 8800. The bPhone theme comes in three variants- Icon, Zen and Today. Each variant has a unique feature for different BackBerry devices. You'll find many icons similar to the ones in an iPhone, some new custom made ones are added as well.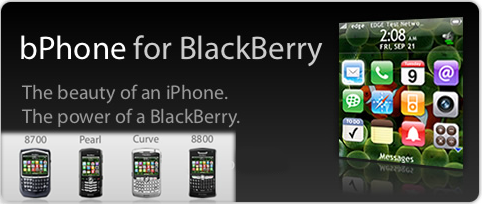 Downloading and installing the theme:
You can either download it to your desktop or use the OTA (Over the Air) method. For OTA, just follow the instructions when you get the email. If you use desktop installation, unzip the file, then open up the BlackBerry Desktop Manager and install the bPhone files you unzipped as a new application for your BlackBerry.
NOTE: You may have to reset your BlackBerry by pulling out the battery after downloading the theme in order for it to appear in your theme list.