---
How to Open a Website without Using a Browser
Here's a small trick which helps you to open a website without using a browser. Now you might be wondering if this is really possible. Well it is. You can do so by going to the help section in notepad, calculator or any other similar application. Here's how you do it:
1. Open notepad.
2. Go to the Help section and Click Help Topics.
3. A new windows will pop up; now left Click on the top left corner of the window.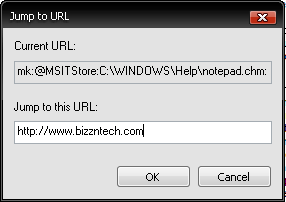 4. Click on Jump URL and enter the web address of the site you want to browse in the "Jump to this URL" field (make sure you include http://).