---
5 Handy Online Video Conversion Services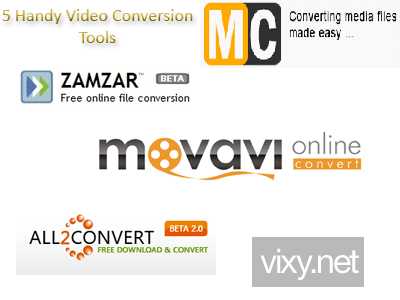 Most of you like to watch videos online on sites like YouTube, Metacafe, google videos, etc. Sometimes you really like the video and would like to save it your pc but the problem is that the videos on these kind of sites are mostly in .flv formats and most of don't really prefer this file format. So, if you want these videos in other formats you got to convert them. Downloading softwares just for conversion is a bit hectic. There are many sites which do the conversion for you online itself. Here are a few:
Vixy:
Vixy.net allows you to convert a Flash Video / FLV file (YouTube's videos,etc) to MPEG4 (AVI/MOV/MP4/MP3/3GP) file online. All you need to do is just enter the URL of the FLV file in the box, it will download the file and convert it into the video format specified, once done you can download the file.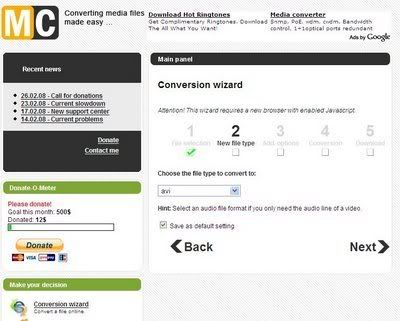 MediaConverter:
MediaConverter allows you to convert videos by directly entering the URL of the video. You can also upload videos from your pc for conversion. You can convert files into mp3, wmv, 3gp, flv, swf, mov, avi, mpg, mp4, divx, ipod, psp and ogg.
Zamzar:
Zamzar is a free online file conversion dedicated to transforming songs, videos, images and documents into different formats. The free service has a small restriction; it restricts the single file size limit to a maximum of 100MB. You can increase this limit to 1 GB by signing up for a basic, pro or business account.
MovAVI Online:
MovAVI Online is a simple and easy to use online convertor. You can enter the link of the video file directly or upload the video file to be converted. It can convert videos to AVI, MPEG, MOV, FLV, MP4 and 3GP file formats. You can also merge videos into one single video. The convertor asks you for your email, once the files are converted you'll be notified. The best part of this site is that it is free from ads.
All2Convert:
All2Convert free online video conversion service allows you to convert videos from all popular video sites, like YouTube.com, MySpace.com, Google.com, Break.com etc. You can use it to convert streaming videos in different formats (flv, swf, wmv, avi, mov etc.), and also embedded Flash videos, Flash games, etc. All2Convert free online conversion service can help you to convert video files located on your computer in different video formats, such as 3gp, mp4, mov, avi, wmv, flv, mpg.