---
PC Clapper- Control Your PC with a Clap
PC Clapper is a small program which allows you to control your PC by clapping. You can open a playlist, change tracks, control volume, open a website, etc by just clapping. PC Clapper is available for free, but you need to have a microphone in order to use this software. If you don't have a microphone then you can use your headphones by plugging them into the microphone jack, they'll act like a microphone.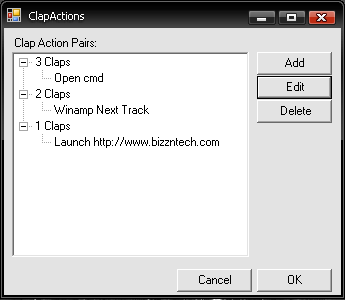 Usage:
Download the clapper from here and Unzip it to a specific location.
Make sure that your microphone is working by going to Control Panel.
Double-Click the PClapper icon
Click "Configure" -> "Clap Actions"
Click "Add" and pick how many claps you want to perform to execute an action.
Right-Click the newly added Clap number and click "Add Action"
Let the screen guide you through picking a type of action and any parameters needed
Click "OK"
Click "Listen" and see the button change to "Don't Listen" which you will click to stop PClapper from recognizing claps.
Check out the below video to see PC Clapper in action: