---
Find Out When Your Email Has Been Read With SpyPig
Ever wanted to know when your email has been read? SpyPig makes it possible. Now, you don't have to guess anymore if your girl friend has read your message or not, you can catch her easily if she says she hasn't read your message.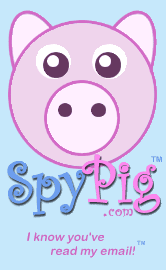 SpyPig is a free email tracking system that sends you a notification email as soon as the recipient opens and reads your message. It works with most of the email programs like Gmail, Yahoo mail, Hotmail, etc.
How to use?
1. First go to SpyPig.com and enter your email address in the box where you would like to receive the notification that the mail has been read.
2. Enter a title to your message so that you'll know which email message has been opened
3. Select one of the SpyPig tracking images you like best. Choose the blank image if you wish to make your tracking image "less obvious" to the recipient.
4. Click the button to create and activate your SpyPig.
5. Now copy the SpyPig and paste in your email.
6. You can send your email now with the image in it.
7. When the receiver opens it you'll get a notification in your mail box.