---
A Clock For Math Lovers
Here's a great looking watch in which each number is expressed as a calculation involving three instances of the number 9. So if it is 4oclock and someone asks you the time, you can say its root (9) +9/9. Sounds a bit silly isn't it? Well, if you like Math then you will like this clock too. If you get bored and have nothing else to do, you can sit back and enjoy calculating the time.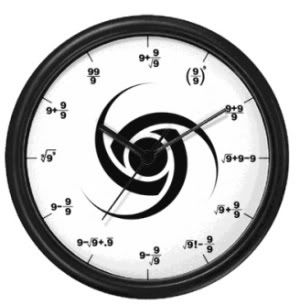 Not every calculation will give you the correct time, there's a small catch in 7oclock. The 7 o'clock isn't exactly equal to 7. The calculation works out to 6.99999~. Don't worry 0.9999~ is equal to 1 and it is confirmed. You can check for more info about 0.999*=1 by clicking  here.
If you liked this watch you can get one for $12.50 from Cafepress.