---
Twelve 5-9 Q version LED Watch Makes You Feel Like A Batman
The Twelve 5-9 Q is a LED watch which has a distinctly bio-mechanical design. This watch is perfect for those who crave something extraordinary. It features 26 exceptionally bright, multi-colored LED's and a great looking solid stainless steel strap. It is available in two colors- rugged gun metal and brushed silver finish.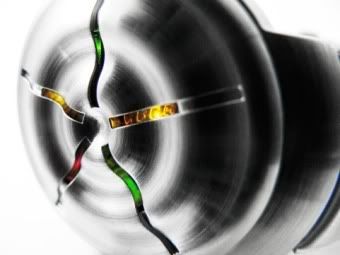 The Q version uses the established 12-5-9 method to tell the time. 12 hours, 5 groups of 10 minutes and 9 single minutes. Moving clockwise from the top of the display, the first two lines of LED's show the hours 1-12, each lit LED indicating one hour. The next line indicates minutes up to 50, each LED showing 10 minutes. The final two lines indicate single minutes 1-9, one LED for each minute.
You can get one from Tokyoflash for around $145.