---
Make Money Online With Auction Ads
Nowadays there are many ways to make money on the net. Well I would say it is not really difficult in order to make money on net. In case if you own a blog then your first preference to make money will be through advertisements. There are various sources of advertisements on net which pay you for placing the ads on your website. People usually prefer Google Adsense as their first preference.

Auction ads are a great choice for a blog in case if you get pretty good amount of traffic. In case you have low traffic then Auction ads won't turn out to be really useful.
How Auction Ads Work?
Auction ads display live ebay auctions. You can make money whenever a person clicks on the ad and makes a purchase from Ebay. A certain percentage of the purchase is given to you as a commission. You will get paid the first of every month via Paypal.
Referals and Bonus:
New publisher accounts will get $25 credited to their account as a bonus when they sign up with AuctionAds. Signup hardly takes few minutes and there is no approval required.
You can also make money through referrals. When a publisher referred by you earns revenue, you will be entitled to get a 5% of his total earnings in the first 6 months.
Optimizing ads with Ad code wizard:
You can select the keywords best suited to your blog in the ad code wizard. For instance if your site is based on consoles, you can use Xbox360, ps3, etc.
Placing the Ads: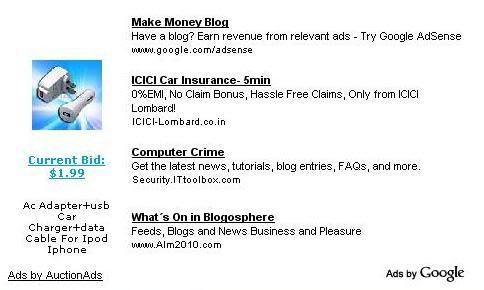 In order to get a good CTR, I would suggest you to place the auction ad of 120*240 size right next to the google adsense box unit inside a post as shown above.