---
$19,000 For A 640GB PCI Express Flash Drive
The ioDATA 640GB PCIe drive is great is performance but just quite enough to burn a whole in the pocket. Normally a 64GB solid state drive is quite great but in case if you want more then you try ioDATA from Fusion-io with 640GB flash memory.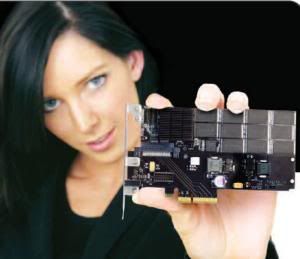 This drive can be easily connected into a PCI-Express x4 slot. It has 600 Mbytes/sec sustained write speed (4000Mbytes/sec random) and 800 Mbytes/sec sustained read (8,000 Mbytes/sec random). This drive has no moving parts; hence it has good lifespan and less risk of failure.
It's currently supported on the following operating systems:
Linux Red Hat AS4.0,
Windows Vista and
Windows XP.
There will be other lower versions of this model with 80GB, 320GB, etc when it will be launched.