---
How to Fix Files or Folders changed to Shortcuts
My friend had a weird problem with his external hard disk. All the files and folders showed up as shortcuts and he wasn't able to open any of them. I suggested a simple fix for the problem and he said that it worked. This fix also works for pen drives. Here's how you do it:
Fix for Files or Folders changed to Shortcuts
If you have such a problem with your external hard drive or pen drive don't panic and format the drive as you'll lose all the data on it.
You need to first check the Drive Letter of your external hard drive or your pen drive and make a note of it.
Now, Go to Start>Run>type 'cmd' and hit enter.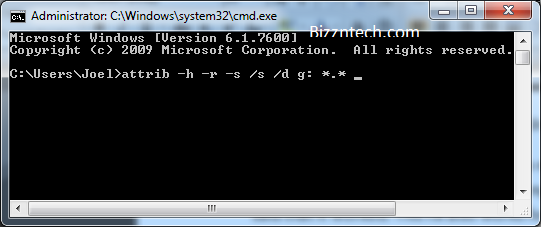 Let's assume that your drive letter is G; then you need type the below command in the command prompt and hit enter.
attrib -h -r -s /s /d g: *.*
If the drive letter is something other than 'G' then you need to change the letter 'g' in the above command to the drive letter.
That's it! Now your files and folders should be visible.