---
Make International Calls, Send SMS on iPad using WiFi
You can now make international calls and send SMS on your iPad using Vopium. Vopium is a great app for the beautiful touch screen tablet- Apple iPad. It's a free app for the iPad that allows you to make low priced national and international calls on VOIP. In addition to this you can also send text messages using your regular mobile number. So, in short this app is actually making your iPad work like an iPhone. Sounds cool isn't it?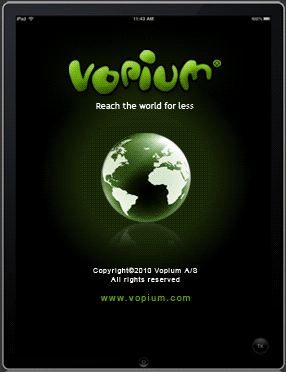 Let's have a sneak into some of its features:
-Free calls to Skype, Gtalk, and other Vopium users when online.
-Free calls to other Vopium iPad users on Wi-Fi.
-Integrate your mobile contacts on iPad.
-Use multiple instant messaging clients on iPad like: Skype, MSN, Yahoo! Google Talk, etc.
-Use your regular mobile number to make calls & SMS on iPad.
-Follow friends on twitter.
-Excellent voice quality on VOIP calls.
Download Vopium for iPad
You can download and install Vopium from iTunes. Once you have installed you can connect to Wi-Fi and make calls and send SMS from iPad using Vopium.
[via-sizzledcore]