---
Reset Trial Software Limit
I'm pretty sure that every one of us has tried one or the other trial version of a software. Well, the sad part of a trial version of software is that it usually lasts for a maximum of 30 days. Once, the 3 days are done the software stops working and you need to either purchase the full version or simply uninstall the software. But, there are several ways to reset trial software limit. Let's have a look at different ways of doing it:
How to Reset Trial Software Limit
Solution 1: Using RunAsDate Software
There's a software known as Run as Date which allows you to run any trial version of a software (except antivirus) for infinite number of times. Firstly, install the trial version of the program and keep in mind the date of installation and its expiry. Once the trial version has expired never start the program directly. Use Run as Date and set the date to few days back and run the trial version. One major drawback of this software is that if you run the trial version directly then there are chances that this trick may not work.
Solution 2: Reinstall the trial version
You can also try reinstalling the trial version but to be honest this never works these days as the registry keys and other data is still present even after uninstalling the software.
Solution 3: Backing Up Registry
Once you have installed the software you need to backup all its registry information and then restore it once the software is expired. This will work only if the software stores trial period information in registry. You can also use Regmon to monitor registry activity and identify trial expiry registry keys, and then delete those keys.
Solution 4: Reinstall Windows
When you reinstall Windows you not only lose all your data but also all the trial software information on your computer. Well, this is not a great solution because it doesn't make sense to reinstall Windows just for the sake of reinstalling trial version which expires after every 30 days.
Solution 5: Using Cracks
You can also use a crack for the software to run it any number of times. Just do a Google search and you should find a lot of them.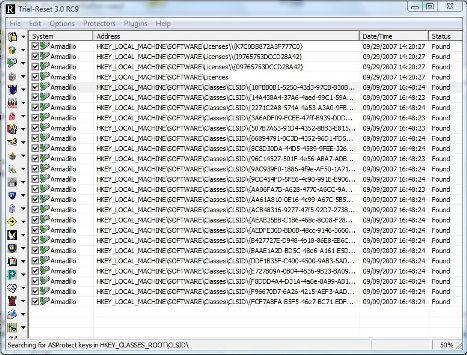 Solution 6: Using Trial Reset Software
Trial Reset is the best option to tackle this problem. It removes and deletes the usage information and history of the trial version of the software installed. This information is usually stored in the system registry. Once, the information is deleted the trial period will be extended.
NOTE: This article is solely for educational and learning purposes only. We strongly recommend the user to buy a genuine version of the software once the trial period expires.