---
How to Change Windows 7 Start Button
You might have observed that the Windows 7 Start Button looks pretty much like the Vista Start button. Well, if you are bored of seeing it then you may like to change it. There's a small app- 'Windows 7 Start Button Changer' that allows you to change it with ease.

Windows 7 Start Button Changer is quite small in size and is pretty easy to use as well. It creates a backup of the original button before a new button is selected. You can restore the original button in a single click if you aren't satisfied with the change.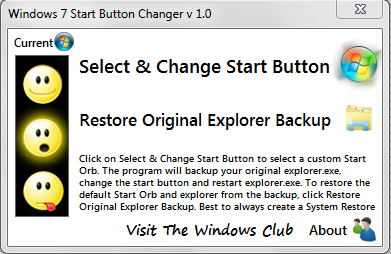 To change the button, download the software from below and extract the zip. Run the app as administrator. Choose 'Select and Change button'. In the zip, you'll get 10 samples. Browse to the folder and select any one. Voila! You should see a new button!
Download Windows 7 Start Button Changer