---
How to Change the Text in Google Logo
Got bored of 'Google' text on the Google search engine page? Well, you can change the text in the Google logo with ease. But, you need to have Firefox installed in order to try this little trick. Here's how you do it:
Start Firefox and install the GreaseMonkey addon.
Once installed, restart the browser and go to Google.com
Install the Google Logo text edit script.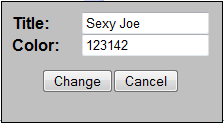 Double click on the Google Logo, a small box should pop up which looks like the one shown above.
You can also change the colour of the text. (You can use the following numbers- 1 for blue, 2 for red, 3 for yellow, 4 for green or any other– random)
Click the 'Change' button when you're done, Voila! You should now see the text you typed earlier in the form of a logo on the Google homepage.