---
How to Sync MP3 Players, Mobile Phones with iTunes
iTunes is my favourite software when it comes to managing my music and creating playlists. I feel it's a perfect software for anyone who wants to manage their music collections. But, I don't like syncing my iPhone with it. But, I have a couple of friends who simply love syncing their iPods with iTunes.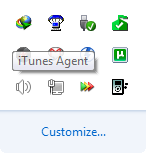 Well, if you don't own an iPhone or iPod but you have an mp3 player and you would like to sync it with iTunes then, it's possible! There's a small app known as iTunes Agent that does the job. It is a tiny application that runs in your system tray, allowing you to sync any mp3 player, a mobile phone or any other media device for that matter provided that is visible in the Windows Explorer with a drive letter. It supports Smart Playlists and works perfectly with Windows 7, Vista and XP, and requires iTunes to be installed.
How to use iTunes Agent?
Firstly, download iTunes Agent from the link below and run it.
Start iTunes and iTunes agent will display any new devices under 'My Devices' in iTunes left hand side pane.
You can add a new device by right clicking on the iTunes Agent icon in the system tray and by selecting Preferences.
Click on 'New Device' and add a new player. You can name the device to whatever you like, but make sure that you choose the right music folder on your device for iTunes to sync. Enter the synchronize pattern and Recognize by folder/file.
[via-thinktechno]