---
Restart a Frozen Web Browser Using a Restart Script
When it comes to web browsers, new internet users are often confused when choosing the best web browser for them. The reason is simple, the choice is difficult as there are several web browsers with similar features.
Well, whichever browser you may be using, I'm sure that you may have come across a freezing problem at least one. You can wait till it restarts after the crash. But, you can resolve this issue immediately by killing the process in task manager.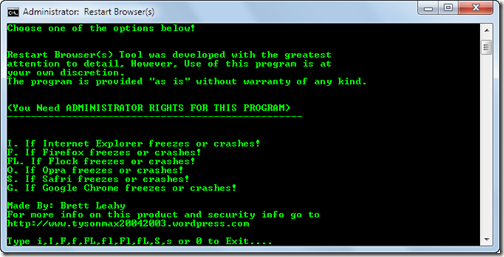 But, there's an even simpler way to resolve this issue, i.e.; by using a web browser restart script. I came across this script on Troublefixers. It's a simple batch file that restarts your browser if it's frozen or crashes. All you need to do is double click to launch it and then simply choose the letter appropriate to the browser you wish to restart and hit enter. The browser will restart automatically.
Download Web Browser Restart Script