---
How to Patch MobileInstallation File in 3.1 iPhone Firmware
Just few minutes ago I wrote a post on unlocking iPhone 2G with 3.1.3 firmware. If you're an iPhone 2G user then you can have a look at it. Well, once you have jailbroken and unlocked your iPhone you may like to install cracked apps in order to try the apps before actually buying them. To do so, you need to patch a small file known as mobile installation file. For more details have a look at the below steps:
Firstly, Go to 'Cydia'.
Click on 'Manage' tab on the bottom.
Now click on 'Sources'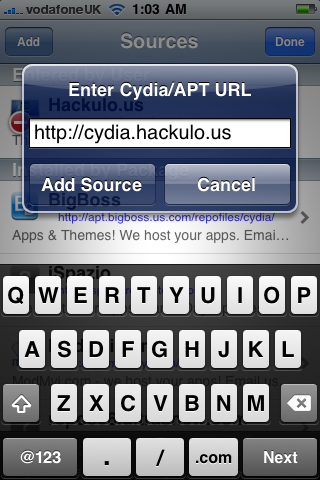 Click on 'Edit' and then on the left hand side click on 'Add'. A box will pop up asking you to enter a url source as seen in the screenshot above. Type 'http://cydia.hackulo.us' (without quotes) and click on 'Add Source'. It will take a few seconds as Cydia will update your sources.
Once done, go to Sources> Hackulo.us> AppSync 3.1 and install it. This is a small app which patches the mobileinstallation file.
That's it! Pretty simple isn't it? You should now be able to install cracked apps on your iPhone with OS 3.1. Connect your phone to your computer and install any cracked app in iTunes.