---
How to Launch any Program when Windows Starts Up
We usually try to reduce the number of start up programs in order to improve the start up speed of Windows. But, sometimes there may be certain programs that you use on a daily basis. You may like to start such programs when Windows starts up. Well, the start up will be a little slow but the program is ready in front of you when the computer starts. Here's a short tutorial that shows you how to start any program on start-up: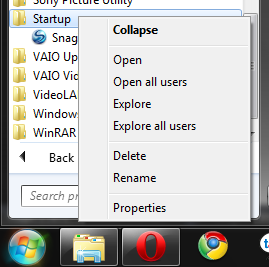 How to Launch any Program on Windows Startup
Create a shortcut of the program you want to launch at startup.
Go to Start Menu> All Programs> Startup. Right click on the startup folder and select open.
Paste the above created shortcut in this folder.
That's it! Next time when you start your computer this program will also start.