---
How to Watch Avatar Movie in 3D on PC
I might be one of those unlucky fellas who can't watch Avatar in 3D as there's no theatre nearby playing the movie in 3D. Unfortunately, when the DVD releases I doubt that it can be watched in 3D at home. The reason is simple because in a movie theatre, the movie is filmed with two cameras next to each other to create the depth of field. Every frame alternates between these two cameras while you watch the film. All the frames from one camera are polarized in a clockwise direction and the frames from the other camera are polarized in an anti-clockwise direction.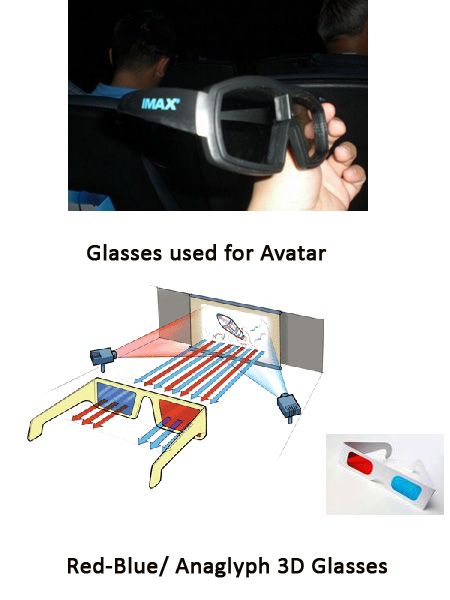 The 3D glasses used in avatar have clear lenses unlike the traditional red and blue glasses that are used usually for 3D movies. The lenses in these glasses are polarized accordingly, one can only see the clockwise frames and the other can only see the anti-clockwise frames. This means that your left eye sees everything through the left camera and your right eye sees everything through the right camera.
Now, this sounds complicated isn't it? But, there's a way through which you can watch it on your computer in 3D. Well, you will certainly not get the 3D experience like you would get in a theatre. Moreover, it wouldn't be that clear but nevertheless it's worth trying.
The idea is to convert the 2D movie into 3D. Now, you may be wondering if that's possible. Well, there's a software known as TriDef 3d experience that does the job. It analyzes the areas of your video and determines what is in front of what, then uses that data to create two tracks and then convert them into one anaglyph video. And, it does all this stuff in real time. TriDef 3d experience isn't a freeware and hence you need to purchase it. It will cost you $50. But, you can use the trial version to check it out. To play the video in 3D you need to first have a normal version of the movie on your computer then you can play it in anaglyph format with Tridef. Grab a pair of red-blue anaglyph 3d glasses and you should be able to see the movie in 3D.
Well, this is really a poor way to watch it in 3D. If you want to enjoy the real 3D experience then go to a theatre. I just tried to explain you a method which is used to convert any ordinary video into 3D.
Will the BluRay version of the movie be 2D or 3D?
I was wondering how the BluRay version of the movie will be released. Will it be in 2D or 3D? Here's what James Cameron has to say about it.
"Probably the initial Blu-ray release of Avatar won't be in 3-D and then a subsequent release will be in 3-D. That's my guess right now. So we will probably put out a disk, you know, in six or eight months, let's call it six months, and then after that we will have a 3-D disc when there are enough sets available."
So, you should definitely not expect a 3D release on Blu-ray for at least six months. And, this will mean that, when the 3D version is released, the disc will utilize the Blu-ray 3D specification.