---
Add Symbols to a Facebook Status
You can easily add symbols to a Facebook Status message. You might have observed that many people add symbols like music notes, hearts, smilies, etc to their status messages. You may have wondered how they did it. Well, it's pretty simple here's how you do it:
How to Add Symbols to a Facebook Status:

Using the ALT button:
Go to you status message app and type in whatever you want to. Then to add a symbol, hold the ALT button on your keyboard and press any number. For instance; ALT+1, ALT+2, etc. ALT+1 will give you a smiley. You can keep trying various combinations of numbers to get different results.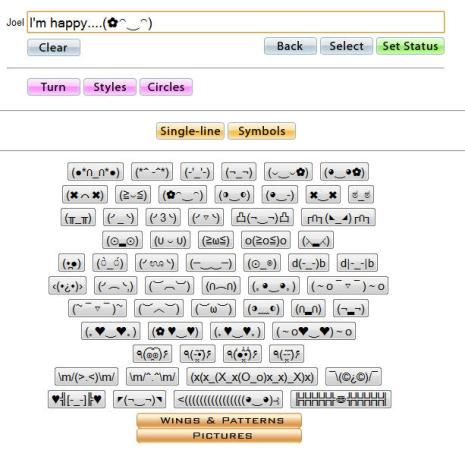 Using Status Symbols app:
Status Symbols is an app that has a wide range of symbols, smilies, arrows, etc. You can create a status message right from the app using various symbols and stuff.
RELATED: How to Get Smilies in Facebook Chat Window