---
Google Android Tips and Tricks
Like Android? Then I'll show you some Google Android Tips and Tricks. Google Android is an interesting Mobile Operating System. Nowadays, every Google product is worth talking about, isn't it? So, let's discuss about some Google Android Tips and Tricks.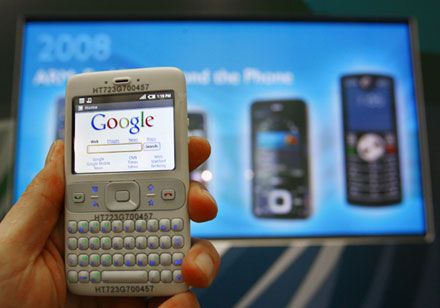 Google Android Tips and Tricks
1. Use Shortcut Keys, Maximize Productivity:
You can make use of shortcut keys and increase your productivity by working faster. Here are some useful shortcut keys.
Insert special character: Press ALT + Spacebar
Insert a Tab space: Press Alt + Q
Highlight text: Press Shift and roll Trackball
Turn on all caps: Press Shift Twice
Delete entire line of text: Press ALT + Delete
Move cursor to end or beginning of text: Press Alt while scrolling Trackball
2. One-touch dialing:
You can set up one-touch dialing for the contacts you call the most. To do so, simply hold your finger on any open space and select Shortcuts. Press on the Direct dial and choose the contact you dial often.
3. Browse into your Android phone:
There's an app known as Astro, which allows you to navigate directories, move files or delete files with ease.
4. Open Apps with Hot Keys:
You can open apps with your own configured hot keys. Go to the main Settings menu> Applications > Quick Launch.
5. What's The Date Today?
Touch the top-left corner of the screen with your finger and the date will be displayed.
6. Add websites to Homepage:
You can add your favorite site on the homepage by pressing and holding the site in your browser's bookmarks and then selecting the Add shortcut to home option.
7. Manage music, Import playlists:
DoubleTwist, a Windows freeware allows you to manage your music with ease. You can also import iTunes playlists with it.
8. Export bookmarks from your Computer:
You can Export your bookmarks from any browser on your computer to your Android phone using MyBookmarks.
9. I lost my Phone, Where's it?
You can track your Phone using an app known as Mobile Defense. You can keep a track of your phone on your computer or GPS and then wipe off confidential and private data.
10. Edit MP3's on your Phone:
RingDroid allows you to edit an MP3 file with ease. You can cut a part of it and set it as your ringtone or system sound.
11. Weather Updates:
Get the latest weather updates using the Radar Now, or the Weather Bug app.
12. Get Free Talk Time:
With Fring you can make calls over Google Talk or Skype and that too for free.
13. Set Custom Ringtones:
You can set custom ringtones to different people. To do so, go to incoming calls screen, tap Ringtone and change the person's tune as you wish.
14. Mute Email Notification Sounds:
Busy at work? Or attending an important meeting? You can mute annoying email notification sounds. Go to Gmail's settings menu and set the ringtone to silent. You can also configure other applications in a similar way.
15. Edit Photos with Ease:
Like to edit photos? Then you should definitely try out the Photoshop.com app to edit photos. It's free and easy to use too!
16. Set WebPages to display in Landscape mode:
I always prefer the landscape mode when it comes to browsing webpages. You can set your phone to display webpages in Landscape mode. To do so go to browser's settings menu and check the option Landscape-only display.
17. Sync Notes with PC:
You can sync your notes with your computer using a PC-synced notepad such as GDocs Notepad. The documents are saved directly into your Google Docs account for easy access.
18. Backup my Phone:
Create a backup of your contacts, call logs, text, apps, settings, SMS, etc using MyBackup and SMS Backup.
19. Give Other Browsers a Try:
You can try out other Internet browsers like Dolphin Browser. The Dolphin Browser sports some exciting features like tabbed browsing, etc.
20. Get Rid of Annoying Pop Ups:
Get rid of a popup by holding it and dragging it down on your screen and it should disappear.
21. Don't miss Important Calls:
Missed Call app notifies you about missed calls from different people with different colors and LEDs.