---
Best Torrent Sites of 2009
Torrents are gaining a lot of popularity these days. Nowadays, almost every internet user knows what a torrent is. Well, with the growing demand for torrents, the torrent websites have also started growing to a great extent. And, hence we need to know some of the best torrent sites out there. So, here's the list: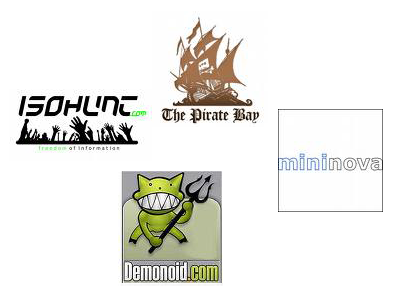 Best Torrent Websites
ThePirateBay:
ThePirateBay.org, also known as TPB is a Swedish torrent website and is ranked as the 104th most popular website by Alexa. The Pirate Bay has been involved in a number of lawsuits and several other problems. But, it is undoubtedly the best one out there when it comes to torrents.
BTJunkie:
BTJunkie.org is a BitTorrent search engine. It's one of favorite torrent sites mainly because the contents are simply amazing; its got a huge collection of torrents. It has nearly 4,000,000 active torrents and about 4,200 torrents added daily.
IsoHunt:
IsoHunt.org is yet another popular BitTorrent search engine. IsoHunt users perform over 40 million unique searches per month. The site has a user friendly design that helps you to search and view torrents with ease.
Demonoid:
When it comes to torrent sites, Demonoid is my first preference. The reason is pretty simple- it doesn't have junk torrents and users are banned with poor upload ratios. Sadly, it is invitation based only. Recently, Demonoid had been down for several months. It was due to a major server issue.
Torrentz:
Torrentz.com is torrent search engine based in Canada. It indexes torrents from various major torrent sites like Mininova, Demonoid, and The Pirate Bay.
Mininova:
Mininova.org was one of the largest BitTorrent index sites. But, after the Dutch copyright enforcement organization BREIN started a civil procedure against Mininova, they had to delete all torrent files pointing to copyright protected material from the platform within 3 months or face damages of up to €5 million. And hence, the traffic suddenly dropped. Nevertheless it's a good torrent website.
Other sites:
Monova.org, Torrentreactor.net, Btmon.com, Extratorrent.com
Out of the above list my top 3 picks are- Butjunkie, TPB and Demonoid. What are yours? Feel free to add yours in the comments.