---
FREE Gmail Desktop Notifiers
A Gmail Desktop Notifier helps you to get Gmail notifications on your desktop. The number of Gmail users is rapidly increasing day by day. Gmail is my first preference when it comes to email providers. The reasons behind this choice are its fast, no colorful advertisements unlike other providers and moreover it's easy to use. If you send and receive emails regularly on Gmail then it's advisable to get a Gmail desktop notifier.
Here's a list of free Gmail desktop notifiers: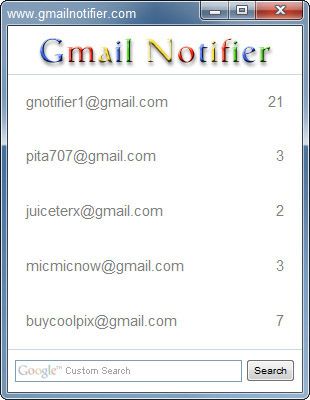 Gmail Notifier:
Gmail notifier is a perfect desktop email notifier. You can add up to 5 Gmail accounts and check them within the notifier itself. You can also mark emails, read and delete them. Whenever a new email in received, you are notified by a blinking tray icon and a sound alert.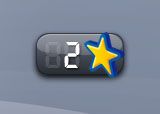 GmailGeiger:
GmailGeiger is a lightweight yahoo widget and a customizable mail notifier for the Gmail service. With GmailGeiger you can manage multiple accounts, check only one Gmail label, customize new mail notification sounds, hide when there are no messages, adjust check times.
GMail Counter:
GMail Counter is a Vista, Windows 7 gadget. It checks your Gmail account and displays the number of new mails you have. Clicking on the gadget will take you to your inbox. If you have more than one account, you can use multiple Gmail Counter gadgets and use different color on each account.
Google Desktop Gmail Gadget:
It's a gadget for Google Desktop. You can view received emails and even send mails from the gadget itself. The best part is that you can also star emails. The widgets also features contact auto complete feature, you need to just type the first few letters and the contact will appear. Just like Gmail counter you can also run multiple gadgets of different Gmail accounts.
So which one's the best? I personally liked the Gmail Notifier and hence I listed it first. The Gmail counter is not a bad choice either. It's small and looks cool in the sidebar.