---
How to Run as Administrator in Windows 7 Command Line
Sometimes we are able to difficult things and aren't aware of simple things. Well, if you aren't aware how command prompt is launched in Windows 7 as Administrator then here's how it's done.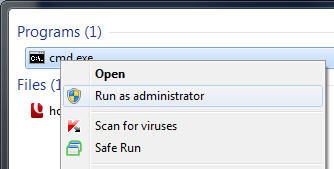 How to Run as Administrator in Windows 7 Command Line
The easiest way is type cmd in the Windows 7 Start Run box and use the keyboard shortcut Ctrl + Shift + Enter instead of just pressing Enter. This will open the Command Prompt in Administrator mode.
You can also right click on cmd.exe and choose Run as Administrator.