---
How to Hide Drives in Windows 7
You may want to prevent others from accessing certain drives in your computer or you may also want to protect windows files on C Drive. There may be several other reasons as well for you to hide drives. So the question arises how to hide drives temporarily? Today, I'll show you how to hide drives on Windows 7.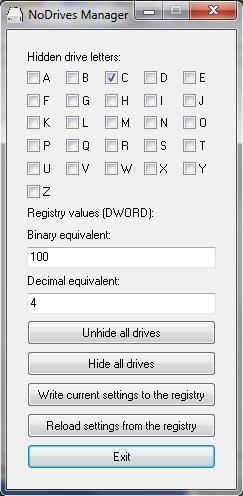 How to Hide Drives on Windows 7?
Using NoDrives Manager:
NoDrives Manager is an easy to use freeware for hiding and unhiding drives in Windows. To use it simply download NoDrives Manager, extract the contents to a separate folder and launch ndm.exe. Now, simply tick the drive(s) you want to hide or unhide. Once you're done with selecting the right drive letters, simply click on write current settings to registry. You need to log off and log on for settings to take effect. Pretty easy isn't it?
Using registry tweaks:
You can hide/ unhide any drive in Windows 7 using registry tweaks. Well, this is little complicated and is not recommended if you aren't good in using computers. If you want to try out this method you can check out for a detailed tutorial on howtogeek.
Using TweakUI:
You can also hide drives and drive letter using tweakUI. For more information have a look at 'How to Hide Drive Letters or Partitions in My Computer'