---
How Disable Microsoft Office 2003 Clipboard
Microsoft Office Clipboard allows you to collect and paste multiple items. For instance, you can copy a drawing object in Excel, switch to PowerPoint and copy a bulleted list, switch to Internet Explorer and copy a page of text, and then switch to Word and paste all the copied items. But, if you're not comfortable with the clipboard then here's a way to disable Microsoft Office Clipboard.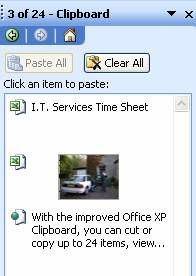 Disable Micorosoft Office 2003 Clipboard:
Click Start, and then click Run. Type regedit and click OK.
In the Registry Editor, navigate to:
HKey_CURRENT_USER\Software\Microsoft\Office\9.0\Common\General
Go to Edit> New> DWORD Value. With New Value #1 selected, type AcbControl, and hit ENTER.
On the Edit menu, click Modify. In the Edit DWORD Value dialog box, click Decimal under Base. Type 1 in the Value data box. Click OK and quit the Registry Editor.
How to Disable clipboard toolbar in Microsoft office 2003:
Go to 'Tools' in the menu and then click on 'Options'
Click on the 'Edit' tab and Disable 'Show paste options buttons' and 'Show insert options buttons'
Once done, Click ok!
RELATED: How to Auto Enter Microsoft Office 2007 Product Key