---
How to Make a Conference Call in GTalk
I have seen many people using GTalk these days. The very reason for this is that it's easy to use and quite light on system too. But, unlike other IM softwares Google Talk lacks certain features like conference call, video chat, emoticons, etc.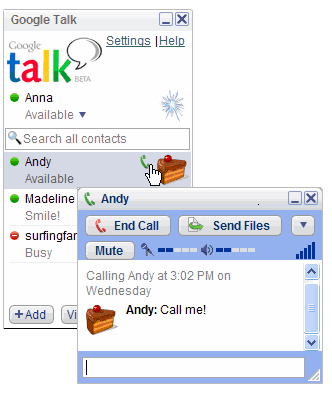 Previously, I had written an article on 'How to Get Emoticons in GTalk'. There's a small trick which allows you to make a conference call as well. It's a little complicated though. Just follow the below steps carefully:
Firstly, Start Google Talk on every computer in which you wish to conference. (In this example, three computers are taken into consideration; Computer A, B and C).
Now, after you have opened GTalk, make a new shortcut for Google talk on desktop, right click and go to its properties and at the end of it add '/nomutex' without quotes. If you installed it to the default folder then your shortcut should read "C:\Program Files\Google\Google Talk\googletalk.exe" /nomutex.
Click on the newly created shortcut to launch GTalk. Now, you should have two GTalk messengers running side by side on the same computer. The same thing should be done on all computers that you wish to make a conference call (Computer A, B and C).
Now, all the people on different computers making a conference call need to cooperate. The person on Computer A should make a call to person on Computer B from the first open GTalk window, Computer B should make a call to Computer C from the second GTalk messenger. Similarly, Computer C should make a call to Computer A from the second Gtalk window opened. In this process all three computers- A, B, C will be connected and you can speak simultaneously. Little complicated, but it's a nice trick.
RELATED: Appear Invisible in GTalk