---
Write Protect USB Drive
Nowadays most of us use pen drives for storing data as it's easy to carry and there are lot of portable apps which make pen drives an essential thing. But, unfortunately most of the viruses at present target pen drives. So how do you protect our pen drives? We can use a USB antivirus like MX One or use a write protecting tool.
USB Write Protector is a freeware which is capable of enabling or disabling the write function on USB through Windows registry. When you choose, "USB write protection ON", USB WriteProtector will change the USB write value in registry to 0. When the write function is disabled, we cannot write anything in the pen drive. Hence, features such as paste, save, or create new files in the USB drive are disabled. To enable the USB write function, simply choose "USB write protection OFF" in the software to allow write access on the USB drive.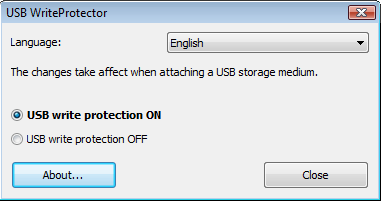 So how does this help?
Whenever you connect a pen drive to an infected pc, the virus enters into the connected pen drive and infects it. Now when the write feature is disabled no virus can it until you enable the write option.
RELATED: How to Test a USB Flash Drive with Check Flash