---
How To: Right Click, Empty Folder Contents
Unfortunately, Windows doesn't give an option in the right click menu to delete the contents of a particular folder. Hence we need to get into in and delete everything by 'selecting all'. But don't you worry, a simple registry tweak should add an option to the right click menu to delete the contents of the folder. Here's how you do it: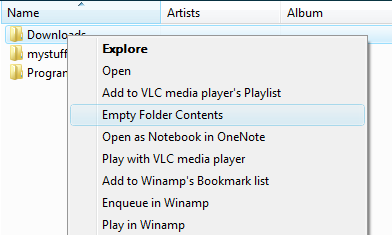 Go to Start> Run> regedit and hit enter.
Navigate to the following registry key:
HKEY_CLASSES_ROOT\Directory\shell
Right click on shell folder, and then choose New> Key. Name the new subkey as 'Empty Folder Contents', or anything you would like.
Right click on Empty Folder Contents and choose New> Key. Name the sub-key as Command.
Under the Command sub-key, double click on the Default value data that is located at right hand side.
On the pop-up 'Edit String' dialog window, enter the following value:
cmd /c "cd /d %1 && del /s /f /q *.*"
Click 'OK' to save, and exit from Registry Editor.
Well, if you still didn't get it and you don't want to mess up the system registry then you can download the registry file from here and double click on it to apply settings. Once done, right click on any folder to see an option to clear its contents.
RELATED: Right Click, Hide or Unhide Files