---
Show Firefox Tabs on the Left Hand side
Today I would like to share with you two Firefox addons which will help you to save a lot of space while browsing. Sometimes when you open a lot of tabs it results in clutter on the top and you tend to get confused with the tabs. To solve this problem there's an awesome addon- Tree Style Tab. Tree Style Tab displays tabs on the left, right top or bottom of your screen. Left side is much preferable though. The tabs are grouped and displayed in the form of tree view. For instance if you have two or three pages of a particular site open then those will be listed under one tab. This is a really good feature as it helps to avoid confusion.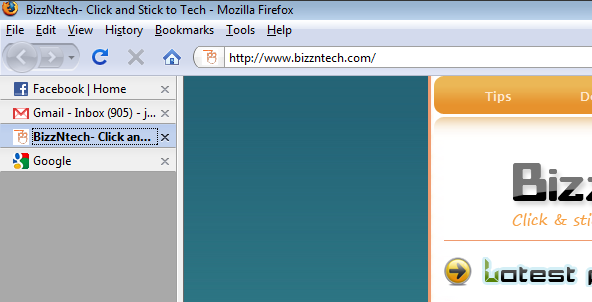 Tree Style Tab is a good addon but you might feel it consumes a lot of width on the side and the default tab view was better. Well, if that's the case then you can make use of the FaviconizeTab addon. FaviconizeTab serves as a very good combination with Tree Style Tab.
This addon will list the tabs on the basis of favicons of the websites as shown above. But you won't be able to see the description of the tab. Well, if you can manage with favicons then its fine. I feel it shouldn't be a problem. I feel accessing tabs is much more convenient on the left hand side with these addons rather than top. What's your opinion?
Get Tree Style Tab addon
Get FaviconizeTab addon