---
Windows 7 look on Windows XP
Most of us are drooling over the Windows 7 looks and some of us just can't wait for the final version to get released. But there are some people who don't really want to move from Windows XP but love the Windows 7 look. Well, if that's the case then I have something for you! It's a theme Windows 7 theme for Windows XP. Now you might be saying, "oh it just another boring theme". Not really! This theme includes the Windows 7 superbar, Windows 7 menu, Big and iconized taskbar buttons, and the Windows 7 look and feel.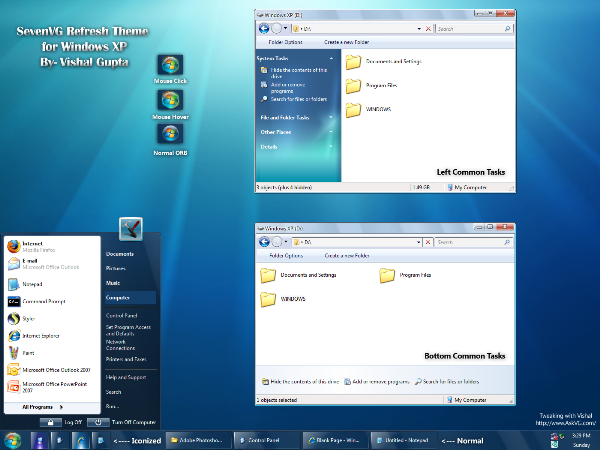 Installation:
1. Download the file from the bottom of this post and extract its content. You'll get a folder "SevenVG Refresh Theme for Windows XP by Vishal Gupta".
2. In this folder, you'll get 3 more folders:
Fonts : It contains Segoe UI fonts required for the theme. Run Fonts.exe file to install them.
Styler Toolbar : It contains Styler setup and SevenVG styler toolbar skin. It'll provide Windows 7 look-a-like toolbar and commandbar in Explorer.
Theme : It contains the main theme. Run Theme.exe file to install it.
3. Apply the theme using Desktop Properties and you're done.
4. Make sure that you have patched the "uxtheme.dll" file. If you didn't then you can't apply the visual style. To patch the uxtheme.dll follow the below links:
For XP SP3 Users – Download UXTheme
For XP SP2 Users – Download UXTheme
5. To get iconized taskbar buttons, download and run this registry tweak.
If you are not interested in the theme and just want the Aero bar (taskbar) then you can download it from here.
Download SevenVG Refresh Theme for Windows XP