---
How to Increase Speed Dial Slots in Opera
Are you an Opera fan like me? Then here's something cool to try out if you like the Speed dial feature in Opera. If you noticed the number of speed dial boxes you'll find that there are nine of them, i.e, 3 rows and 3 columns. Here's a small trick if you want to increase the number of boxes.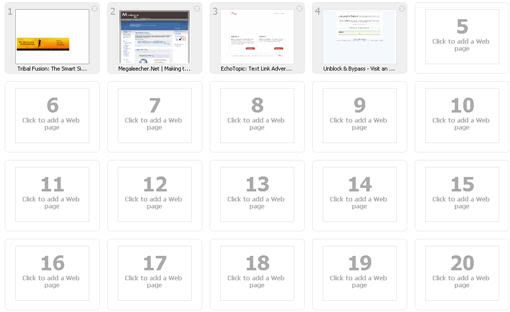 1. To add more speed dial boxes, you need to edit a file named speeddial.ini which is located in your Opera profile directory (you can find out the location by typing opera:about in the Opera address bar and note the path to Preferences Folder). By default it is,
C:\Documents and Settings\USER\Application Data\Opera\Opera\Profile.
2. Once you find the location of the file close Opera.
3. Now open speeddial.ini and add the following code:
[Size]
Rows=5
Columns=5
4. Once done, save and exit.
5. Now start Opera for changes to take effect. You should be able to see 20 slots now.